MATT Tarrant is one of more than 20 official club ambassadors who uses their public profile to promote the club they love.
He's an Adelaide-based magician and mentallist who has won multiple awards for his shows around the country, including locally at the Adelaide Fringe.
portadelaidefc.com.au caught up with Matt to talk Port and his brand new showDeception.
Matt Agius: So Matt, when did you first start supporting the club?
Matt Tarrant: I started supporting the club back in 1997 when we joined the AFL. I was a Glenelg and Richmond supporter before then because I loved Matty Richardson. My school teacher at the time was a massive Port supporter in the SANFL, so when Port came into the AFL he was fully into them.
We had this competition where whoever could recite the Port song first got a free can of Coke so that's the only thing I did at school basically – learnt the Port song. From there it turned into a total obsession.
MA: So you were caught up in the hype around the club?
MT: Yeah, I was pretty young at the time and I remember we had a 'design a guernsey' competition at school and people would compare me to Gavin Wanganeen in terms of looks…
MA: That's not a bad comparison.
MT: Yeah, I loved that!
MA: What about your family, who did they support?
MT: My family supports different clubs. My Dad is a massive Crows fan but is also a Port member. My brother's a North Melbourne supporter but is now a Port member as well, and Mum doesn't really support anyone.
MA: Who do you watch games with?
MT: I go with a bunch of lads and we call ourselves 'Bay 118' basically. It's a weird mix of people, we only know each other because of Port. We only became friends because of the club and now we're a real tight-knit group, even though the only thing we have in common is Port.
Half of us now sit down on the lower ground at Adelaide Oval and the other half sit up in the first tier. The ones upstairs are kind of the ones who wanted to sit with that view, and the ones downstairs are the rowdy ones, which I'm a part of. We're just a bunch of really good mates, family members and my Dad. My Dad comes to every game.
MA: Is he still a Crows man?
MT: I don't know! If you asked him, he would say he's a Crows man but he just loves footy. And if you see him at Port games, I reckon he's slowly turning.
MA: Does he barrack for us when he comes to one of our games?
MT: He doesn't really barrack but you do see him fist pump the air when Port get a goal. He'll get up and clap so I reckon he's becoming a Port man. I remember seeing the Port v Richmond game where Tredders won the game for us at AAMI Stadium. That would be my favourite game. At least emotionally it was. My Dad and I were there by ourselves, no one else was there at the time and we both got caught up in the spirit of the game. We were both in tears. It was such an emotionally good game and it didn't really mean a lot, it wasn't a final or anything like that.
MA: Where is your favourite place to watch the game from at the Adelaide Oval?
MT: It was bay 118 at AAMI Stadium. There was a big supporter group there, maybe 30 or 40 of us that went to every game rain, hail or shine. Some weeks we would be the only ones in the bay. Now it's right behind the goals in the outer, bay 123. I love getting into the atmosphere of it. I don't like the corporate areas, I like to really get into it.
MA: If you had a job at the club, what would you be doing?
MT: Probably the mascot. I'm not good at a lot. I think I would be an alright mascot. I couldn't do flips or anything but I could definitely do some really bad dance moves.
MA: If you were playing AFL, which one of our players would you not want to be playing on and why?|
MT: Jacko [Jackson Trengove]. I think he would just beat me up, he's too tough. He would destroy me.
MA: Not Giving In or Never Tear Us Apart?
MT: It's even, they're both so good. I love the holding up the scarf thing and singing along, it creates such a cool atmosphere. I can't pick.
MA: Do you do the 'March'?
MT: Sometimes, every now and then I do. We kind of have our own tradition of going out first and doing our own walk to the Oval. Sometimes we'll meet up with the March, sometimes we won't. But the March is wicked. For the club to put that on and to have the supporters so heavily involved in it is great.
MA: It gives a new tradition to those that don't have one?
MT: Yeah, exactly! But also people that already have a tradition like us, we go along to it as much as we can.
MA: Who is your favourite current player?
MT: Well it was Ben Newton and I like Butch [John Butcher] – he's a legend – but I'll probably have to go with Angus Monfries.
MA: And what about your all time favourite player?
MT: Wanganeen or Kane Cornes.
MA: Why those guys?
MT: Wanganeen was such a brilliant player. Just watching him, he was amazing. He captained the club in '97 so he was the main man and so magical. Kane because he's such a consistently good player. I don't think all supporters have always been firmly behind him, but I like to back the underdog.
MA: Which piece of merch can't you live without?
MT:  I have a Warren Tredrea 2005 heritage guernsey. That's pretty special. I also have a footy from 1997 so that's pretty cool.
MA: What was the first guernsey you ever owned?
MT: I had the original 1997 one but the one I remember most of all was the white away or clash guernsey that had this weird bolt on it. No one really likes it, but I love it. I think it's because it's one of the first ones I had and it might be the first one I bought myself. I don't know, there's just a thing about it. I think it looks good. I don't know why people hate it.
MA: And what about your favourite guernsey ever in the history of the club?
MT: Well the prison bars jumper is brilliant isn't it? You have to love it. And the 2004 guernsey is obviously another amazing one as well. But, I think our current guernsey is awesome. I think we're building something with that guernsey that will eventually become like the prison bars for this team. It's hard to say but I feel like this current one is eventually going to be my favourite.
MA: Who in your opinion is the best player to ever play for the club?
MT: You would have to go Russell Ebert, I think it's definitely Russell if you're talking pre-AFL. I remember my Dad and I went to a Port match and Russ was there and Dad's eyes just lit up. My dad is a massive fan of Russ, he's his idol. The small amount of footage I have seen is pretty impressive. He was a pretty good player.
MA: Which is your favourite away venue to see us play?
MT: The MCG, just because I don't get to go there enough and generally it's a big game. And I quite like the road trip to Melbourne as well. I've flown many times, but I quite enjoying driving there as well. I've always said that when we make that next Granny [Grand Final], I won't be flying, I'll drive over there.
MA: If money and picks were no problem, which player would you want to trade to Port Adelaide?
MT: You'd say Ablett but who would he replace in the midfield? The midfield is really strong. It would have been Patrick Ryder, he's kind of the player that we needed. I don't know whether we need any more, not really sure.
MA: OK, if you could put any former player into today's team, who would it be?
MT: That's a really tough question. Probably Wanganeen just because I'd like to see what he could do alongside guys like Chad (Wingard) and our midfield. I think Boak, Wangas and Monfries would be unstoppable. You can't beat that, it would be pretty special. If we got a player, I would say Franklin because a key forward like him doesn't come around too often.
MA: Why should we see your show?
MT:  I've got a massive show. We're doing 27 shows, 14,000 tickets and I think we're the only SA act. I think myself along with Vinh are one of the bigger acts. It's all about supporting your local really. We've done shows over the last couple of years that have sold out and this is our best show yet.
The people that are helping build it are guys that have worked alongside Dynamo, The illusionist show and all the big names in magic and now they're working with a couple of Adelaide kids. It's pretty cool to see that.
And I'm a Port man, come on, I think that's the main reason.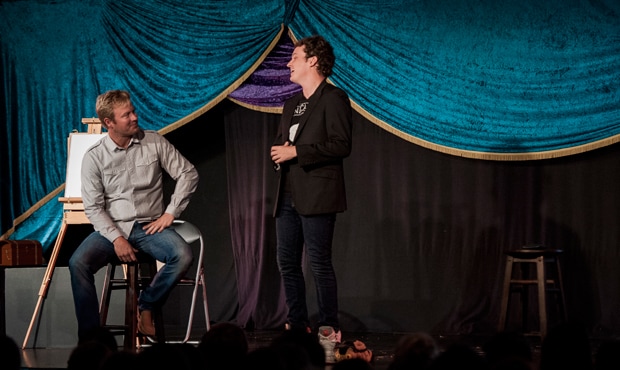 Matt Tarrant on stage
MA:  Why did you choose magic?
MT: When I was about 10, I saw a magic show at the Fringe by a guy called Rudy Coby and he was seen as the world's coolest magician back then, he had his own TV show too. He was really good, I loved it.
I didn't get into magic straight away. I was maybe 17 or 18 and saw a show that wasn't as good, it didn't really give that emotion. He had a really good crowd and was doing really well but I was thinking these people aren't getting what I was getting when I was a kid.
So I started and I tried to do better and I feel like I have. I wasn't like most magicians who get their magic kit when they're kids and start, it just kind of happened. I worked at Westpac bank as a manager and two years in I thought I'd give that up and just go for it.
MA: A few Port fans will probably want to know if you can make the 2007 Grand Final disappear?
MT: I'm just a magician unfortunately, not a wizard, which I think is what that would take unfortunately. I've done the best I possibly can to try and erase that memory from my mind. I actually don't even know what you're talking about to be honest.
MA: Well, Matt, thanks for your time, and good luck with Deception at this year's Fringe.
MT: Thanks – can't wait to see as many Port fans as we can at the show.
Read More: http://www.portadelaidefc.com.au/news/2015-02-09/ambassador-profile-matt-tarrant
COMMENTS